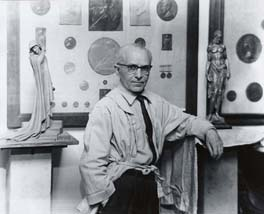 Anthony de Francisci, an Italian-American sculptor, is best known for his artistic prowess in designing the iconic Peace Dollar. Born in Palermo, Italy, in 1887, de Francisci's journey to the United States and his subsequent impact on the world of numismatics is a tale of talent, perseverance, and passion for art.
Early Life
At the age of 16, de Francisci immigrated to the United States, arriving in New York City in 1903. With a keen interest in sculpting and art, he pursued his education at the Art Students League of New York and the National Academy of Design. His talent and dedication to his craft eventually led him to become an assistant to the renowned American sculptor, James Earle Fraser, who designed the famous Buffalo Nickel.
Designing the Peace Dollar:
n 1921, the United States sought a new design for the silver dollar to commemorate the end of World War I and symbolize peace. The U.S. Commission of Fine Arts held a design competition in which Anthony de Francisci participated. Despite being relatively unknown at the time, de Francisci's design was selected as the winner, forever etching his name in numismatic history.
The obverse of the Peace Dollar features a left-facing portrait of Lady Liberty, donning a radiant crown reminiscent of the Statue of Liberty. The reverse showcases a perched bald eagle holding an olive branch, embodying the spirit of peace. The design of the coin was a blend of modernism and traditional American imagery, which resonated with the public and remains a beloved classic to this day.
Legacy and Later Years:
The Peace Dollar was minted from 1921 to 1935, and although it remains de Francisci's most famous work, he continued to create other notable pieces of art. Among his many achievements, he designed several medals, including the prestigious Purple Heart, and sculpted various plaques and monuments.
Anthony de Francisci passed away in 1964, but his legacy as a talented sculptor and the creator of the iconic Peace Dollar endures. To this day, numismatists and art enthusiasts alike continue to admire his contributions to American coinage, as his designs remind us of the power of art to convey lasting messages of hope and unity.