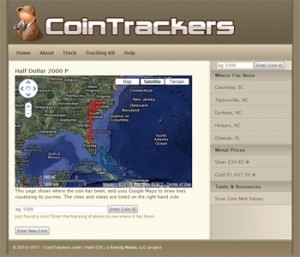 New Web site CoinTrackers.com offers a cool new feature for coin hobbyist. They allow you to tag and track coins from your pocket to the bank and beyond.
They also offer up current silver and gold prices so you can see exactly where the market is. Another feature is a Silver Coin Melt value application that tells you how much popular silver minted coins are worth at the moment.
The prices update every 15 minutes so you can trust the site for accuracy.
The tracking part of the site is free, and you can request your own stickers. The stickers tend to be about the size of a half dollar, so they may not be good for things like quarters.
Check Out the Links
Silver Coin Melt Values
Track Coins
Current Price Silver
Current Price Gold